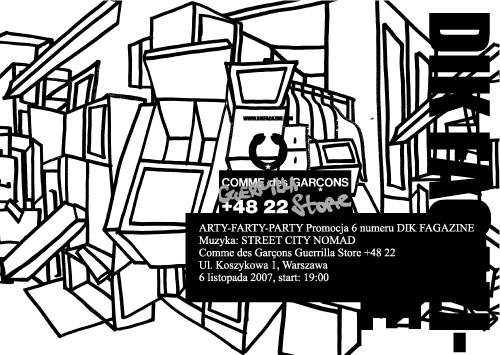 ARTY-FARTY-PARTY
DIK Fagazine and Comme des Garcons Guerilla Store would like to invite you for the presentation of 6th issue of DIK Fagazine. This time we interview the first row of Polish art world – Wilhelm Sasnal, Rafal Bujnowski, Zbigniew Libera, Artur Zmijewski, Edward Dwurnik, Oskar Dawicki and Pawel Kruk. They are talking about masculinity, youth, kids, women and homosexuality.
In the 6th issue you will discover: documentation of Pawel Althamer project "Balloon", never published before drawings by Zbigniew Libera, created during the preparations to Universal Penis Expander project. We have also Birds by worldwide known graphic designer – Filip Pagowski.
Specially for DIK their pieces selected: Rafal Bujnowski, Artur Zmijewski, Pawel Kruk, Oskar Dawicki and Wilhelm Sasnal, whose painting is on our cover. In an untypical role of the photo model we shoot Edward Dwurnik – probably the best dressed artists in Poland.
All artists are photographed by Kuba Dabrowski.
As usually we end the issue with the comic. This time Przemek Truscinski reveals the secrets of Polish show bussines.
06.11.2007 (Tuesday)
7 pm
Comme des Garcons Guerrilla Store
Ul. Koszykowa 1, Warsaw
The promotion of the new issue will be followed by the exhibition of artists collaborating with DIK Fagazine. Kuba Dabrowski – photography, Monika Zawadzka – graphics, Karol Radziszewski – mural
Music – Street City Nomad.
ARTY-FARTY – let's start a PARTY!!
Visit our refresed web site and our blog!!
http://www.dikfagazine.com